Andrew Musgrave BSc Hons CEng FIGEM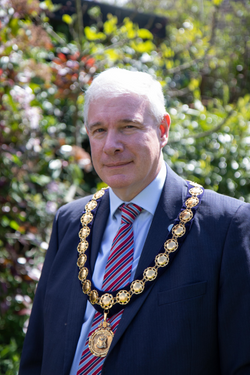 I would like to start by expressing my sincere thanks to all of you for allowing me the opportunity to serve as IGEM President this year. It is a great honour and beyond anything I could have ever imagined.
I still remember vividly turning up for my first day at work on 3 September 1979, at the Maidstone District Office of South Eastern Gas. I had been offered a job as a Technical Trainee.
My father had been a gas fitter, rising through the ranks to a senior manager position in the training department at Old Kent Road while my mother spent her time working in the gas showroom in Maidstone, selling boilers, cookers, fridges, fires and, eventually, whole kitchens.
So, having no real idea what I wanted to do after leaving school, a career in the gas industry seemed almost inevitable.
The early part of my career was spent laying mains and services, maintaining pressure reduction equipment, and working with the emergency and repair teams. This was hard work, but invaluable.
Development opportunities within an office environment were too attractive for me to ignore and that set a new path for me within the design, planning and records team. Opportunities to study part time while working led to my engineering degree and eventually through to registration as a Chartered Engineer and the honour of being appointed as a Fellow of IGEM.
Looking back over the last 44 years would take up too many words here, but I have been blessed with opportunities to serve in most areas of the upstream gas industry. The work has been enjoyable but the people I have worked with along the way have been far more important. I can say the same about my journey with IGEM – what a fantastic group of people, many of whom have become firm friends.
At present, I am working at SGN as Head of Engineering and Network Strategy. On the one hand, I have responsibility for our company engineering policies and procedures, on the other, I oversee our strategic investment plans, liaising with our two principal regulators, HSE and Ofgem. I would like to thank them for allowing me the time to serve in this wonderful position.
With the needs of energy transformation setting our current agenda, the future role for the gas network remains uncertain and we have a responsibility to all existing and future gas customers to work with regulators and government to find solutions that are fair and transparent.
With that in mind, I have three areas of focus that I would like to share with you:
We must ensure that the natural gas system we operate today remains safe, secure and sustainable. This is the only way we can earn the right to repurpose parts of the system in the future. While we're looking at the energy system of tomorrow, let's not take our eye off the ball today.
Our Company Members, Young Persons Network and local Sections are important, and I want to offer them my full support as they develop their programmes of technical and social events. Bringing folk together to spend time with each other provides invaluable opportunities to network, learn new things and contribute to shaping our future.
I want to place a particular focus on equality, diversity and inclusion. What you accept is what you get. Will you join me in agreeing that we may be making some progress and doing some good work, but that the current position is not acceptable and that we need to be doing more? It's a challenge we share with organisations across our sector. I have started this conversation already with IGEM Council.
I am looking forward to meeting as many of you as possible during the year, whether that is at our IGEM-wide events and conferences, or at some of your local events.