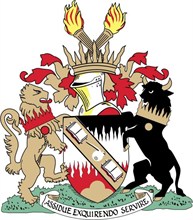 The armorial bearings of the Incorporated Institution of Gas Engineers were granted by the College of Arms on 14th May 1930. The College of Arms was founded in 1484 and has since then created and maintained official registers of coats of arms and pedigrees.
The original copy of our armorial bearings, which was hand painted on vellum (a parchment made from calf skin), is proudly displayed on the wall of our Council chamber at IGEM headquarters.
The unofficial description of our armorial bearings is as follows:
Arms: The shield is divided horizontally into black and red, conveying to the mind coal and heat respectively. Over this is a white 'fess rayonné' to symbolise light.
Over all is a gold 'bend' and thereon a retort between two books, in natural colourings, to call attention to the education and research work of the Institution. In the base is a gold heraldic 'mount', indicating the valuable residuals which result from the manufacture of gas.
Crest: Issuing out of a gold crown 'rayonné' are two gold torches with flames in natural colours.
Supporters: On the left side there is a gold lion rampant with red tongue and claws and with a red crown round his neck and charged on the shoulder with a red roundel. The lion, reminding one of the Lion of England, may be taken to refer to the royal charter of the Institution.
On the right there is a black bull rampant with gold horns and collared as the other supporter, but with a gold crown, and the roundel on his shoulder is gold. The bull denotes strength and, like the lion, conveys the idea of power.
Motto: Assidue exquirendo servire (by diligent investigation to serve)