Volunteer Days at IGEM
Last year, IGEM launched a volunteering policy which encourages the secretariat to take a day out of their working schedule to volunteer for activities in the local community and charities.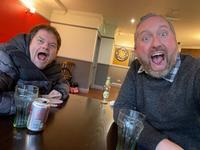 Our CEO, Oliver Lancaster, completed his 2022 volunteering day at the end of the year by spending the day providing respite care for Rich who he is friends with through church.
They spent the day playing pool, eating and drinking their way around Cardiff and going to the Christmas market.
He said: "It made me realise how much hard work it is for those who care for friends and family day in, day out, and for those who do it as their job.
"Rich did a great job of directing where to go next and what to do all through the day – there was hardly a part of Cardiff we didn't touch!"