UK and Germany partner to further advance hydrogen developments
A new important agreement between the UK and Germany could help to accelerate the development of an international hydrogen industry – with the 2 countries at the cutting edge of its development.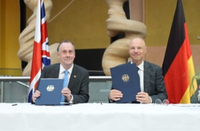 Signed at the UK Embassy in Berlin, by Minister for Energy Efficiency and Green Finance Lord Callanan and Federal Republic of Germany's State Secretary for Energy Philip Nimmermann - a Joint Declaration of Intent will see the UK and Germany work together to underpin the international trade in hydrogen.
The 2 governments will also accelerate the role of low-carbon hydrogen in their nations' energy mix, showing the world how to expand new, net zero-friendly markets.
They committed to work together to further advance ground-breaking and renewable hydrogen technologies, supporting jobs and low-carbon investment.
Read more: UK and Germany partner to further advance hydrogen developments - GOV.UK (www.gov.uk)