North Wales waste-to-hydrogen company wins manufacturing startup award
Compact Syngas Solutions, a waste-to-hydrogen company, was honored with the Manufacturing Start-up 2023 title at the prestigious Made In Wales awards held in Cardiff.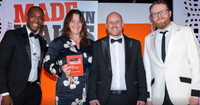 Compact Syngas Solutions, a company located in Deeside, Wales, has recently received a government grant of nearly £4 million from the Department for Energy Security and Net Zero (DESNZ).
The funding will be utilized to enhance the eco-friendliness of its biomass and waste-to-hydrogen plants by incorporating carbon capture technology.
The company has successfully developed a cutting-edge gasification technique that efficiently produces hydrogen gas from various waste materials, such as biomass like waste wood and specifically chosen non-recyclable substances.
Read more: North Wales Waste-to-Hydrogen Company Wins Manufacturing Startup Award (businessnewswales.com)