IGEM visits H100 Fife and Glenrothes biomethane site
Last week, IGEM President Andrew Musgrave and CEO Ollie Lancaster were given an overview of SGN's Energy Futures Portfolio at the Fife Renewable Energy Centre.
Visitors took a deep dive into the system level research, evidence gathering, design, testing and demonstration work that SGN is doing to ready its distribution network for net zero.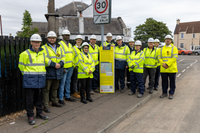 Part of the event focused on H100 Fife, the UK government's hydrogen neighbourhood trial, in which 300 homes will be connected to a hydrogen network constructed in the residential streets around Buckhaven, alongside the existing natural gas pipework.
In addition, the LTS Futures project is repurposing a pipeline between Grangemouth and Granton to carry a hydrogen supply.
Ollie said: "It was great to hear how much the community support the H100 Fife trial and that the project has received overwhelming support in the community and has met its minimum participation target, while welcoming more households to register.
"SGN has excelled in local engagement, showing a real passion for everyone in the surrounding area and building meaningful relationships with the people who live here. This includes the volunteer groups which are core to the delivery of services. There is now palpable excitement that houses in this region are going to be global net zero pioneers."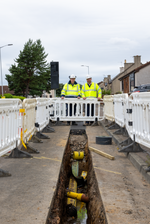 The attendees took a walk around the nearly completed demonstration homes, which will soon give people a chance to experience what it's like to have a hydrogen home.
Ollie said: "The demonstration homes will be a great meeting space for the local community.
"From these demonstration homes, you can see the wind turbine that will be used to power the electrolyser, and the storage tanks that will hold hydrogen before being distributed around the neighbourhood. The hydrogen network is being laid at the moment and is making good progress."
Attendees were also briefed on the latest from SGN on its biomethane connections – which will soon reach enough capacity to supply 500,000 homes across the UK.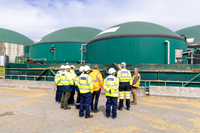 Ollie and the other delegates then moved over to visit a biomethane production and injection site in Glenrothes, where they enjoyed a detailed walkthrough and discussed feedstock, economics, technical matters and challenges that the new operators have overcome.
"Biomethane has a significant role to play today, particularly through the use of pipelines to store and transport this bioenergy to vehicle refuelling stations. It's great to see all the gas networks working together to help maximise this green gas entry," said Ollie.