IGEM's new President celebrates top achievements in the gas sector
In a special address ahead of the IGEM/EUA Gas Industry Awards, new President Andrew Musgrave spoke about his priorities for the year ahead and handed out some of IGEM's most prestigious honours.
It was standing room only at the InterContinental London Park Lane Hotel as new President Andrew Musgrave spoke to the crowd in lieu of an inaugural address at this year's virtual AGM.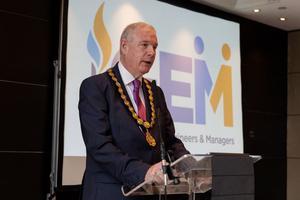 Taking to the stage ahead of the Gas Industry Awards, Andrew began by speaking about his almost 45-year career working in the gas industry.
Having started his career as a technical trainee on finishing school, he worked his way through the ranks to become SGN's Head of Engineering and Network Strategy, responsible for company engineering policies and procedures while also overseeing the network's strategic investment plans.
He then spoke about his three main aspirations for his year at the helm: ensuring that the natural gas system we operate today remains safe, secure, and sustainable; engaging IGEM's Sections, Young Persons Network and Company Members to develop their events calendars and bolstering the industry's efforts to promote equality, diversity and inclusion.
Andrew said: "I want to convey my thanks to IGEM and its members for giving me the great privilege to serve them as President for the year ahead. I want to thank outgoing President David Parkin for a fantastic past year, and I look forward to working with our CEO Ollie Lancaster and his team in the year ahead. I also want to thank SGN for allowing me the time to serve our professional institution for the next 12 months."
David Parkin was presented with his Past President's medal and certificate before Andrew welcomed two new Companions to the IGEM fold: Jon Butterworth, Chief Executive Officer of National Gas, and Mark Wild, Chief Executive Officer of SGN.
Andrew then awarded the title of Honorary Fellow to Dr Gary Tomlin, Vice President of Laboratories & Testing at DNV, Hilary Buxton, Engineering Director at Cadent, Malcolm Howe, Consultant and Chair of IGEM's Academic Panel, Chris Gorman, Chair of IGEM's Technical Coordinating Committee, and Andy McPhee, Director of Rune Associates and Chair of IGEM's Professional Development Committee.
The following medals were also bestowed:
Bronze medal to John Batterson, Digital Transformation Manager at Cadent, for his presentation on 'Emission Data Step Change'
Bronze medal to Sam Wilson, Director of UK Operations at ULC Robotics, for Committee Member of the Year
Gold medal to Steve Critchlow, Principal Gas Engineer at Health & Safety Executive
2022 Sugg Heritage Award for Best Historical Paper to Professor Russell Thomas, Technical Director - Ground and Water at WSP
Section trophy to London, Southern & Eastern Section
And finally, Robert Murray, Managing Director of Skewb Ltd, was awarded IGEM's Birmingham medal for his outstanding contribution to the institution through his dedication and commitment to mentoring and for supporting hundreds of aspiring engineers through professional registration.
See the full photoset here.