IGEM partners with CO Research Trust for Chris Bielby Carbon Monoxide Research Award
IGEM recently joined forces with the CO Research Trust to present Josh Durran with the Chris Bielby Carbon Monoxide Research Award.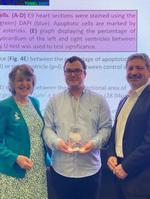 Josh won the award for his presentation on 'Impacts of chronic low-level CO exposure on the cardiovascular development in the embryonic avian model'.
Josh is a student at Sheffield Hallam University studying Biomedical Science and was given the award for his outstanding research.
The award was presented by IGEM's Head of Technical and Policy, Ian McCluskey, and Baroness Finlay at the CO Research Conference.
Chris Bielby was a former IGEM President and member before he sadly passed away last year.
He held a life long commitment to helping people progress in their careers, and was a strong advocate for knowledge sharing and collaboration.