IGEM CEO meets newly appointed ambassador in India
IGEM's CEO, Oliver Lancaster, recently took a trip to India to meet with our newly appointed ambassador, Nitin Patil, and to have introductory conversations with some of the leading organisations in the gas sector.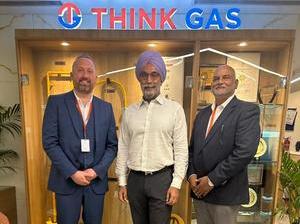 Oliver said: "It has been a very worthwhile trip to meet our IGEM Ambassador, Nitin Patil, in India. The meetings have given a good understanding of the opportunity for the uptake of IGEM Technical Standards, for Company and Individual Membership, and indeed for the development of an Indian Section in a country that has a growing gas sector and shares the ambition for a hydrogen transformation.
"It was a pleasure to visit the offices of the Petroleum and Natural Gas Regulatory Board (PNGRB) at the World Trade Centre in Delhi. Crudely, PNGRB are an equivalent of Ofgem and the HSE in the UK. It was here that I met Mrs Vandana Sharma, Secretary, Mr S C Gupta, Joint Advisor, and Mr Anil K Garg, Joint Advisor, to discuss our respective organisations and the potential the future holds through collaborative working.
"Meetings with two gas distribution networks followed – with Mr Hardip Singh Rai, Founder and CEO at Think Gas in the World Trade Tower, and with Mr Bhashit Dholakia, COO at IndianOil-Adani Gas who are based at the Windsor IT Park. There was a very clear message that there is a void in Technical Standards and developing professional engineers in the gas sector in India – and that it needs filling, and that it seems IGEM are prime to do that.
"The subject of quality in the gas industry in India is seen to be 'light', and that it needs to change – with Technical Standards and competence being key. New gas network companies, like Think Gas, are pushing for these sector improvements. There is currently no forum in India for the gas industry on technical matters, shared learning and development of innovation, with an Institution framework seen to be needed to help with this.
"It was very warming to hear from these leading lights of change and modernisation for gas in a market where new gas network licences have been awarded and their build-out is now happening at pace – born out of clarity from the Indian Government on the need to provide a gas utility across the country. This is whilst recognising that there's more work to do to reach all of the population with a secure supply of electricity as well.
"My final meeting of a 36 hour stopover in India was with Mr Anuj Khanna, CEO at Diligentia Services. This company arranges gas sector conferences and workshops and may offer us a route to deliver IGEM content to large audiences. They also have a vast network of stakeholders delivering public affairs services to channel sector influence towards policy makers.
"There was recognition, throughout these meetings, of the advancements that the UK has taken in hydrogen. They each suggested an Indian delegation visit to the UK as a next step, including interest in attending the IGEM Annual Conference and specific requests to visit the hydrogen system microcosm at DNV Spadeadam and the Hydrogen Homes in Gateshead.
"We very much look forward to working with Nitin and gas sector organisations in India to grow our presence there, and to help fulfil their industry needs."