IGEM attends East Coast Hydrogen Delivery event
On 13 November, Ian McCluskey, IGEM's Head of Technical & Policy, attended the East Coast Hydrogen Delivery event at the House of Commons.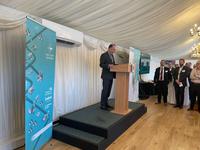 The delivery plan was set up by Cadent, National Gas and Northern Gas Networks to join together to make a valuable contribution to the UK's net zero target, by creating a cost-efficient hydrogen network. This will help with the decarbonisation of industry and power generation.
The report provides a strategic outline for delivery of the East Coast Hydrogen (ECH2) Programme and the opportunities and benefits it can bring.
The event saw a range of speakers including a keynote address from Lord Callanan; Head of Regional Development at Cadent, Sally Brewis who covered the 'Needs Case' and network plan and Alexander Stafford, Vice-Chairman of the APPG on Hydrogen.
Find out more: East Coast Hydrogen Delivery Plan - East Coast Hydrogen