Event Review - Company Member Section Conference
On, 11 May, IGEM welcomed members to the Company Members Conference - Decarbonising the UK Energy System: A Whole System Approach at IGEM House which was sponsored by UIS (Utility Innovations Services Limited).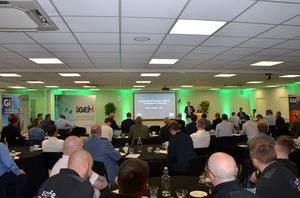 Antony Green, Hydrogen Director at National Gas Transmission, kickstarted the event with a presentation on A Whole Systems Future. He delivered an in-depth speech about the future of UK energy, sustainability and trying to reach net zero.
He said that that a combination of hydrogen and electric is the future and investment is required especially with regards to electrical storage. He went onto say that time is short so we and the politicians need to move faster, and that while more investment will be required, a faster political decision-making impetus would be helpful.
Elnur Ibrahimzade of bp gave a presentation on how they are delivering low carbon hydrogen across Teesside. Elnur is the Lead Pipeline Engineer on the H2Teeside Project which is a major blue hydrogen production facility in the UK with work planned to commence in 2027. The target is to produce 1GW of hydrogen by 2030, which is 10% of the UK government's 10GW target by 2030. This project has the potential to kickstart the UK's hydrogen economy and will create the world's first zero carbon industrial hub.
Chris Taylor, Head of Planning and Consents for Progressive Energy, discussed HyNet and the HyNet industrial decarbonisation cluster. The UK's business sector accounts for around a fifth of the UK gas emissions and reducing this emission to net zero is a challenge that this project will help resolve. The plan is to build 4GW low carbon hydrogen production: connecting over 30 industrial and power generation plants, 100+ km network of hydrogen pipeline, 1.3TWh hydrogen storage capacity in salt caverns, over 10 industrial carbon capture facilities and underground pipelines to transport 10MTPA CO2 emissions to permanent safe storage in depleted gas reservoirs.
Adam Madgett, Principal Consultant at DNV, looked at UK gas system hydrogen research strands, and the UK's hydrogen strategy. He went on to explain the NGT/DNV FutureGrid project, this is a transmission grid made up of decommissioned assets, with the aim to examine the ability of the UK National Transmission System (NTS) to transport 100% hydrogen without major investment.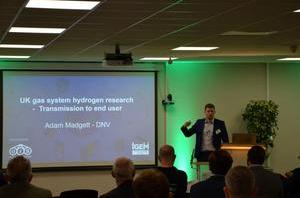 Sean Crespin, Element, discussed material science across the whole gas value chain looking at alternative options related to the energy transition and areas around pipelines and their associated technologies. He discussed what lies ahead, what the system boundaries are, and the characteristics of hydrogen.
After lunch, Keith Owen, Head of Systems, Development and Energy Strategy at Northern Gas Networks, talked about trials for hydrogen. He explained the forthcoming hydrogen village trial set against the landscape of the Hy4Heat programme. He also explained the Customer Energy Village (CEV). This new development of four to five homes, is being built to create housing infrastructure reflective of existing housing stock across the north. The aim is to capture the full spectrum of the challenges facing communities needing to reduce their energy demand and their carbon output. The CEV will demonstrate how effective, all low carbon heating technologies, home based solutions, and digital technologies are and the part they may play.
Adam Madgett returned with a presentation on the Netherlands 100% hydrogen pilot where they are exploring the full potential of hydrogen conversion. The Stedin project aims to convert houses to 100% H2 with an entire village running on a 100% green hydrogen community by 2025, serving around 651 properties. Adams speech provided further insight on how H2 can be handled with minimal mitigations.
Richard Harper, Contract Manager (Gas) at EU Skills, delivered an insightful presentation on bridging the skills gap of today and tomorrow. He addressed the importance of ensuring that the workforce has the right skill sets to carry out their job safely and he highlighted the well-establish processes already in place to achieve this. Furthermore, Richard gave a glimpse into the ongoing 100% hydrogen heating trials. He explained how these trials will provide vital evidence on the practical, logistical and technical challenges faced when converting buildings and appliances. The trials promise to be an important milestone in the industry's journey towards a fully renewable and sustainable future, helping to ensure that the workforce is equipped with the necessary skills to handle future innovations.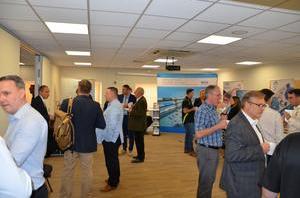 Last up was Dean Berry, Technical Operations Director at SMS-PLC and trustee at the National Gas Museum Trust. Dean gave a presentation on the lessons learnt from the past during the town gas to natural gas conversion otherwise known as The Great Switch. In this conversion 14 million homes and business changed fuel in less than a decade. His presentation was complemented by excellent historical videos from the 1960s and 1970s.
Tony Wimpenny, Director at Bohr and Chair for the Company Members Section concluded the conference by highlighting how the need for a mixture of energy resources will need to be used in the future. Tony captured the theme when he said: "The hearts and minds of people are crucial in anything we are going to do going forwards, the presentations delivered were a great way to explain what we are doing, how we are doing it and showing how household brands are getting associated with hydrogen."
To conclude, the day began with the future is electric but then saw there is a need for gas for a resilient energy network. IGEM is going green and our aim to provide conferences with content that is valuable to us as we move forward as an industry.
With thanks to our sponsor UIS (Utility Innovations Services Limited) and exhibitors, nZero, Steve Vick International, National Gas Museum Trust and SICK.
You can view the photo album on our Facebook page.