Airport to take part in trial of green hydrogen refuelling
Gloucestershire airport have joined the Project Heart initiative to trial a green hydrogen refuelling facility, designed to cut carbon emissions.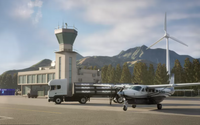 The purpose of the Project Heart initiative is a collaboration between Protium and Haskel and aims to create, store and distribute green fuel.
The trial will begin by creating fuel for a 500 mile range on a small aircrfaft with hopes to fuel larger planes in the future.
Read more: Gloucestershire Airport to take part in trial of green hydrogen refuelling - BBC News